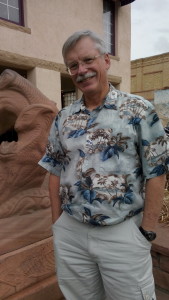 My name is James Van Pelt. I am a former high school English teacher who is now a full-time science fiction, fantasy and horror writer (among other things). My short stories have appeared in numerous magazines and anthologies, including Asimov's, Analog, Talebones, Realms of Fantasy, Weird Tales and others. I have six books out, including four short story collections, STRANGERS AND BEGGARS, THE LAST OF THE O-FORMS AND OTHER STORIES, THE RADIO MAGICIAN AND OTHER STORIES and FLYING IN THE HEART OF THE LAFAYETTE ESCADRILLE. My two novels, the latest that came out in August of 2015 are SUMMER OF THE APOCALYPSE and PANDORA'S GUN.
I have been a Nebula finalist, a John W. Campbell Award for Best New Writer finalist, and have been nominated for Pushcart prizes. My first collection was named a BEST BOOK FOR YOUNG ADULTS by the American Library Association, and my last collection won the COLORADO BOOK AWARD.  Many of my short stories have appeared in various Year's Best collections.
I can be contacted at Vvanp (at) aol (dot) com.