My Goodreads book give-away of THE EXPERIENCE ARCADE AND OTHER STORIES ended. I'm stoked by how many people expressed an interest in the book! Of course, when I looked in my box of books to send to the winners, I realized I didn't have enough, so I have an order in for more.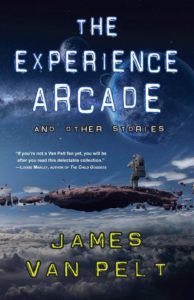 I think this is a collection that would be of interest to writers and teachers too, mostly because I've written about the process that produced each story for writers, and I created the curriculum material for teachers who might like to read the stories in their classes.
What I'd like to see are more reviews of the book. If you want to support writers who you enjoy, write an online review! The best place for a reader's response to a book is Amazon, probably, because Amazon pays attention to how many reviews a book gets and then starts linking a frequently reviewed book to other books, but all responses are helpful, no matter where they are.
John O'Neill at BLACK GATE said, "James Van Pelt's stories capture the essential joy and boundless optimism of Golden Age science fiction better than any writer alive."
Ted Kosmatka said, "Prolific, masterful, and stunningly original, James Van Pelt is a modern virtuoso of science fiction."
My mom said, "I like your stuff."