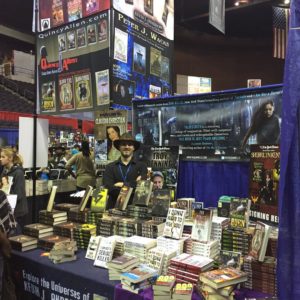 Denver Comic Con was this weekend. I heard that 120,000 people attended on Saturday, making the convention the fifth largest comic con in America (the world?). Since the biggest convention I'd ever been to before was a WorldCon, with maybe 8,000 or so people, you can understand that Denver's event was overwhelming. You know how babies can sometimes be over stimulated? I suffered the adult equivalent.
On Sunday, I sat on three panels. Authors and literature are a smaller part of a comic con than it is at WorldCon, but a small part of 120,000 is still a lot of people. The panels were in big rooms and a lot of people came to them, even the late afternoon one on Sunday when many people were heading home.
The panel I enjoyed the most was the one I moderated: "The Best Writing Advice I Ever Heard."
For the record, here is the best writing advice tips I shared:
The first came from Connie Willis. She signed a book for me once, and I asked her to put her top three writing tips in. The one that stuck with me most was "Remember what you liked about science fiction in the first place."
The second tip came from George Scithers on one of my early rejections, where he said, "I hope while you were waiting to hear from me on this one that you were working on your next."
I don't know where the third came from, and it's less a writing tip and more a career one about envy. The tip was "Don't compare your beginning to someone else's middle."
The panelists and I shared a bunch of other tips too. I tried to moderate to encourage brevity so we could get more content out and limit the long anecdotes panelists can sometimes be famous for. The questions from the audience in the last fifteen minutes provoked more interesting advice. I think the audience didn't waste their time.
As I mentioned, the convention was overwhelming. I've heard it said that the science fiction community is greying, and that we're losing our audience. From what I saw at this event, I'd disagree. Yes, many of the people came because of their interest in comics, movies, anime and television, but it was all about science fiction and fantasy. I saw a lot of people buying books. The Wordfire Press display was consistently mobbed (I think Kevin Anderson is doing a marvelous job of selling books and generating enthusiasm, not just for Wordfire titles, but for all books).
I don't think a big convention like this is for everyone, but I'm glad I went.