LATE RAINFOREST REPORT. MARKETING SHORT STORIES: Joe Iriarte posted some insider information in the comment thread about his upcoming Daily Science Fiction story about his progress in selling short stories, which reminded me I wanted to do this post. I appreciate when other writers share this kind of information.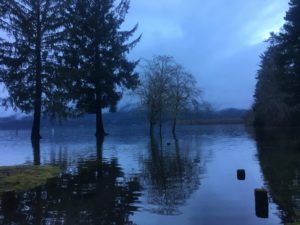 Because we had so little connectivity at the Rainforest last month, I wasn't able to do a detailed report of the days, including my talk on the 52-Story effort. I talked about the process of writing the stories a year ago at Rainforest, the same week I wrote the last story. This year's talk was a lot about marketing. For the last two years I've been hilt deep in marketing short stories, so I'm feeling pretty good about what I know of the state of the marketplace right now. Here's what I reported to them:
Remember, everyone's experience in selling stories is unique, so YMMV on these numbers and conclusions.
First, the background. Two years ago I decided to try Ray Bradbury's challenge to write a story a week for a year. I've seen other people do it, although most of them were writing pretty short pieces. I averaged 3,595 words per story, and 186,937 words total. I submitted the first of the stories a couple weeks after I started the challenge. My process generally was to finish the first draft of the story in a week, and then rethink, rewrite and polish the story over the next week while I was writing that week's story. At my peak, I had over thirty stories circulating at the same time.
I found markets through Ralan, The Submission Grinder, and notifications or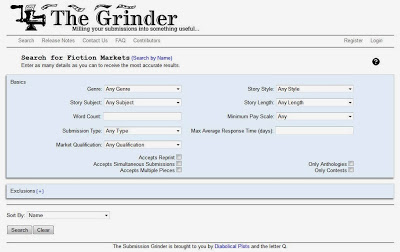 invitations for markets on my FB feed.
As of today, two years and a month after starting the project, here are the numbers for the project:
– 33 of the 52 stories have sold
– 6 stories sold to the first market I sent them to
– 125 submissions for stories that sold to the 2nd or subsequent markets
– 149 submissions of the stories that have not sold
– 280 submissions total
– 1 sale for every 8.48 submissions
– 10 rejections is the most any of the sold stories suffered
– 12 rejections is the most for any of the unsold (so far)
– 26 rejections from one unnamed pro market that rejects quickly–this is a market I've never cracked
– 3 other markets I've never cracked rejected 29 stories between the three of them
– Several stories sold to markets that were new to me
– 12 of the 33 sold to pro-paying markets
– 2 of the submissions resulted in a request for a rewrite
– 1/5 of the rejections were personal.
CONCLUSIONS:
– I was able to find places to submit all the stories pretty much all the time. If there are that many markets, then the short story marketplace is robust. The Submission Grinder lists 25 markets in science fiction that will pay six cents or more per word. There are many more, beautifully done, semi-pro magazines that I'm proud to submit to who pay less.
– This is an old lesson, but if you are going to write short stories and submit them on spec, you have to be thick-skinned. I have been submitting stories seriously since the 80s. I've sold 145 stories, been a finalist for the Nebula, and the Theodore Sturgeon Award. I've appeared in several Year's Best collections. I think I'm doing okay, but I'm still rejected at an 8 to 1 ratio. Mike Resnick doesn't suffer from this ratio, I'll bet, but there's only one Mike.
– On a side note, if you want to sell more of what you write and be rejected less often (and as a whole be paid better for it), write non-fiction. Unfortunately, I like what I like. Writing on spec is what I do.
– Submitting is way faster now that almost all markets take electronic submissions, but it still takes time. Knowing the marketplace, Submitting in the correct form, keeping correspondence professional, etc. is a part of the process and it isn't instantaneous.
– I think if you regularly use Ralan and the Submission Grinder, you should send them donations. I also pay for NPR. If I'm getting value from someone, I owe them that.
– Submitting regularly is how you learn the market. It's also how you develop relationships with editors. I'd been submitting to George Scithers for several years before he bought something from me. Because I kept submitting, he started sending personal rejects. After a while, we had a healthy pen-pal relationship. I sent 5,000-word long letters in the form of a short story, and he sent back a page with a sentence or two that was personal. Still, I felt a connection. I'm not into writing science fiction just to sell the things. I like that I meet other people, some of them whose contributions to the field are awesome. Communicating with the people who have provided so much reading enjoyment to me and others is fulfilling all by itself.