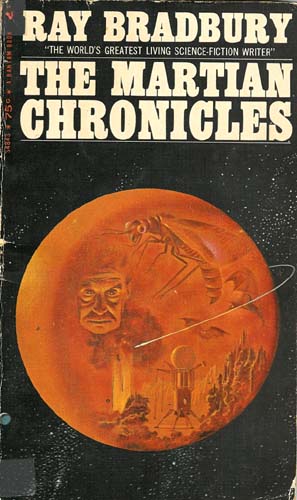 Sometime when I was a little kid, I decided I wanted to be a writer. I'd always been a reader. The Tom Swift stories, Tom Corbett: Space Cadet, A Wrinkle in Time, The Princess of Mars, Have Spacesuit, Will Travel, and the other usual suspects. Anything with a spaceship on the binding in the library, that's what I read.
I didn't want to be a writer at first. I loved reading books. But books have a gazillion pages! In 4th grade it took me a weekend to write a one-page report for my social studies class. Nobody that I knew could write a book. In fact, the most science fictional idea in my life was that a person could compose an entire book.
Then I read The Martian Chronicles. Some of those stories made me laugh. A lot made me cry. They all thrilled me. And they were short! I couldn't write The Door Into Summer, but maybe, just maybe, I could stick with it long enough to write a story the length of "Night Meeting" or "The Silent Towns."
I remember looking through the science fiction books in the library to see where they would shelve my version of The Martian Chronicles when I finished it. I put my finger between Jack Vance and A.E. Van Vogt to show the space where my book would fit.
I might have been nine or ten.
Fast forward almost twenty years. I still read a lot, but writing stayed on the back burner. It was never out of my mind, existing in that sphere where other unpursued dreams resided, like getting in shape for a marathon or learning guitar. It wasn't until my first marriage fell apart that I really started writing and submitting work. Nothing like misery to drive a young man to the typewriter! I stayed alone in my office, didn't come to bed until late at night, thinking deeply about stuff other than my life. Perfect.
The problem with sending work out for publication, though, was that nobody wanted it. I started submitting for real in 1983 or so, when I was twenty-nine. I photo-copied the relevant pages from The Writers Digest Writers' Market. Also, I hung out at the big comic store in Denver that sold all the genre fiction magazines so I could see what was happening currently. Lots of great magazines that don't exist anymore. My favorite was Twilight Zone Magazine.
In the meantime, rejections piled up. For a while, I taped them to the wall in my bathroom until I found I didn't want to go into that bathroom anymore. One of my first rejections came from the great George Scithers at Amazing Stories. He said, "I hope while you were waiting to hear from us on this story that you were working on your next."
For five years I collected rejections. Most were impersonal. No one gave me a hint that I was getting close, and I didn't even feel close. Published stories started to read to me as something magical. How did the writers do it? I returned to Bradbury's stories. They were perfect! How did he write "The Veldt" or "Ylla" or "I Sing the Body Electric"? The barrier between the quality of what I was doing and what "real" writers did seemed insurmountable. And writers as people began to feel mythical to me. Even when I met a couple, they didn't quite seem human. I met Ed Bryant, the multiple award-winning science fiction author, and his personality was bigger than life. Then I met Joanne Greenberg, the author of I Never Promised You a Rose Garden. I was so rattled that the first thing I said to her was, "I thought you were dead."
The idea of being a "writer" consumed me, not because I thought they lead glamorous lifestyles (Ed Bryant looked tired, and Joanne Greenberg resembled a PTA mom), but because I wanted my words to do what their words did. I wanted words that got out of their own way and moved readers the way Ed Bryant's and Joanne Greenberg's words moved me.
I wanted strangers to validate my literary existence through reading a story I sent to them uninvited and deciding that they liked it enough, and that their readers would like it enough, that they would send me money for it.
I wanted a first sale.
In 1987 or so, four years after I started my real push to publication, I read an article in Writer's Digest that I think was supposed to be funny. The author said she had heard somewhere that you weren't really a writer until you'd collected 100 rejections. I don't know how many I had at that point, but I must have been approaching the century mark. The author said she'd sent her first story out, and it was immediately rejected. She was so proud: one down, ninety-nine to go. The problem was, she sold her second story. Surely, she thought, this was a bump in the road on her quest for 100 rejections, but the third and fourth stories sold too. At the article's end, she wailed about how she'd never get to be a writer because her stories kept selling.
I hated her. I'll bet Writer's Digest lost a few subscriptions from that issue.
At conventions I have sat in auditoriums with hundreds of people just like me, listening to published writers at the front of the room talk about their careers. Like me, most everyone else in the room was unpublished. The yearning was palpable.
Gordon Van Gelder, the long-time editor of The Magazine of Fantasy and Science Fiction told me once that when he finished a week-long gig as an instructor at a writing workshop, he attended an end-of-session party with the wanna-be writers. He said at one point they surrounded him, all chatting, all being polite, but he could feel the subtext beating like a whale's heart in the room. "Choose me! Choose me!" was its rhythm.
In 1988 I went to U.C. Davis to start a master's degree in Creative Writing. We had a sort of publishing club that met once a week to talk about selling our work. The ticket into the meeting was a manuscript in an envelope, stamped and addressed to a market. We talked about publishing, pored over writers' guidelines and commiserated over our rejections.
Finally, in 1990, I took a phone call in my tiny, Davis apartment. The guy on the other end didn't introduce himself but started talking about a story I'd written earlier. It took a couple of minutes for me to realize it was the editor of After Hours, a tiny horror magazine. He wanted to buy a short story of mine called "No Small Change."
I'd made my first sale.
I'd like to be able to tell you that this first sale changed my life in a way I could feel, that my writing afterwards became more subtly imbued with the essence of publishability. I'd like to say that I became more confident and bolder, that my next blank page became less intimidating.
Sadly, none of this happened.
But I can tell you that I was smiling when I hung up the phone with that publisher, and that on some level I've been smiling ever since. In most ways, a first sale changed nothing at all.
And it changed everything. My first sale was awesome.
If you're a writer who hasn't sold anything yet, you have my best wishes. Somewhere out there in your future an editor will pluck your manuscript from the slush and love it. If you're a published writer, then you have your own first sale story. I hope yours means as much to you as mine means to me.